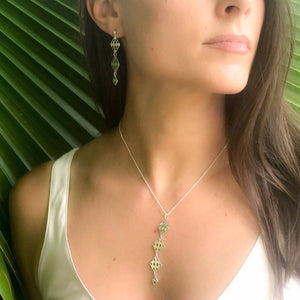 Na Hiku Pendant with Chain
Being a skilled Kilo Hōkū or one who studied and had a deep understanding of the celestial world above, was one of the necessary skills needed by a skilled navigator in ancient Polynesia.  Today this ancient skill continues to flourish.  Nā Hiku or the Big Dipper in western terms, is one such important constellation in traditional navigation. Two of the stars that make up Nāhiku,  Hikukahi and Hikulua, are always in a direct line with Hōkū Pa'a or the Northern Star, no matter where they are in its nightly celestial rotation around Hōkū Pa'a. Thus giving an accurate indication of true North.
Representing the keen observation skills, critical thinking and determination needed in not only  navigating vast oceans, but life itself.
Sterling Silver Pendant with chain (16 or 18in - please specify)
2.5in long