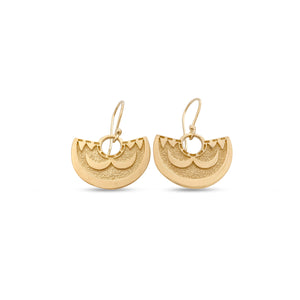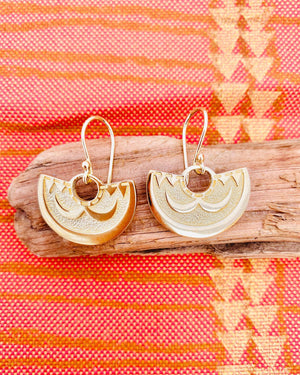 Kamehameha 'Ahu'ula Earrings Vermeil
This piece was commissioned by the De
Young Museum in San Francisco, for the
opening of the exhibit Nā Hulu
Ali'i - Royal Hawaiian Featherworks
The cloaks ('ahu'ula) and capes were handcrafted of plant fibers and rare feathers from
endemic birds of the island.
They provided spiritual protection to Hawaiian chiefs,
proclaiming their identity and status.
This piece is patterned after one of the capes of Kauikeaouli or Kamehameha III and is
named after this great Chief.
It serves as a reminder, regardless of where we come
from to stand proud of our cultural identity.
14k Vermeil

1.5in (w) x 1in (h)