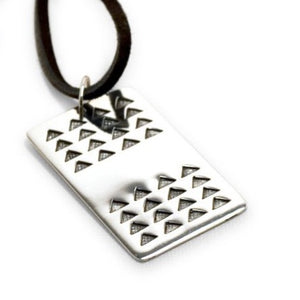 This 'ohe kapala design, is a variation of the Makaloa pattern which were woven into the fine mats of Ni'ihau also called Makaloa. This particular grouping can represent the 'ohana, that pilina or connecting force which binds the family together from generation to generation. It can also represent the maternal and paternal genealogies of ones family.
This pieces comes with a suede cord.  Chains sold separately.

925 Silver, Handmade.