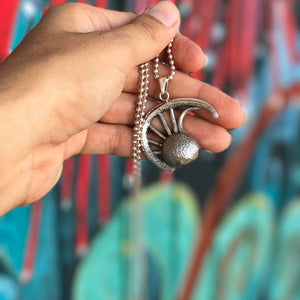 Ka Mahiole Ali'i
A chiefly symbol of Hawaiian Royalty, mahiole were made up of thousands of individual
feathers from native birds, and donned by the Ali'i during times of battle and ceremony.
This piece replicates this symbol of rank and sacredness of our ancient chiefs. Today it
serves as a reminder for us to behave with the goodness, fairness, and responsibility to
our people, like the beloved Ali'i of our past . . .
He 'ōpū ali'i - A heart of a chief
To Lead - To Provide For - To Protect
Sterling silver
1.5 x 1.5 in
Sold with a suede cord