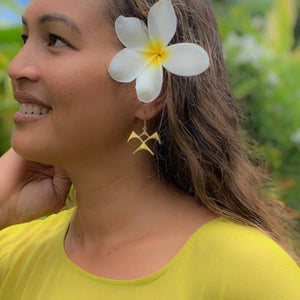 'Iwa Ne'ekau Earrings Large Vermeil
Ha'a mai nā 'Iwa - the 'iwa birds are dancing . . .
E aloha mai e ka manu 'Iwa ho'ola'ila'i
Lanalana i luna o Kalaeokūka'iwa . . .
Love to the 'iwa soaring in the calm,
Soaring above Laeokūka'iwa . . .
Soar. Dance. Love.
Sterling Silver
1.5in (w) x 1.25in (h)