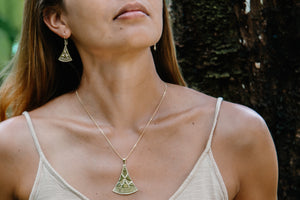 Kālai Pōhaku Earrings Vermeil
Kālai Pōhaku

Stone Carver, A Carver of Stone.
Pōhaku or stones are believed to hold mana or spiritual power. Manifestations of 'aumakua or family guardians and akua or deities and 'uhane or spirits. Throughout, the islands are famous and named pōhaku which figure prominently in healing and health.
There was a fundamental reliance of Hawaiians on stones.  It served an essential function in the everyday life of kanaka, from cooking to its use in building to its use for medicinal purposes and healing.  Kālai pōhaku or stone cutters must know when and how to collect the needed pōhaku.  Masters of this skill can hear the pōhaku speak to them, directing them.  Keen observation skills are necessary to see the rock's grain, density, and color.  Careful consideration is needed to match the pōhaku to the task that its eventual form will be used.  
This humble offering, loosely in the shape of a pōhaku ku'i 'ai (poi pounder), honors those few that today continue this art form of Kālai pōhaku or hewer of stone in the traditional way of our ancestors.  
He ola pōhaku, he make pōhaku. -  stone gives life; stone takes life.
Attributes attributed to this design -
Focus, Deep Concentration, Spiritual Connections, Sustenance, Healing, Providing
14k Gold Vermeil 
1.5in (h) x 1in (w)