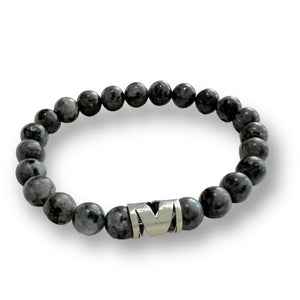 Beaded Bracelet - Maka 'Upena
Sterling Silver Barrel Bead: Maka Upena - A design symbolizing the eyes of the fishing net. To provide.
8mm Round beads - Labradorite - Healing and protection. There is a lot of protective energy within black stones because there is no light within them. This protection will shield your aura from any negative energy surrounding you.
8" - please specify if you would like larger or smaller
Nylon stretch Cord
925 Silver
(Only one  available)